Fandom: Firefly
Song: Songbird by Bernard Fanning
Subject:Malcolm Reynolds
Notes: A Firefly fanvid as requested a few weeks ago by
b_cs who wanted a little country and a little Mal. While I think the song is more folksy than country, but the fiddle-in-the-middle is really what made me pick the song. It reminded me of the series so much. I hope you enjoy!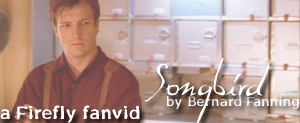 Click banner