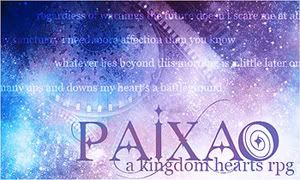 Strange things are happening.

Sora has locked the doors to all the worlds, but one remains. Like a vacuum, it sucks beings from other places into its own, yet the reason for this is unknown. Dimensions cross in this place, and anyone can come across different versions of people they once knew—both those alive, and those that have passed on—for there is more than one physical body and more than one dimension connected to every heart.

Worlds previously undisturbed have their people and creatures involuntarily placed here, in this city trapped under domes there is no exit, not even a sky; where the citizens are like Victorian porcelain dolls and the native plants and animals are glass and fabric. The only true life are strange creatures called lumens, white and glowing beings whose existence depends on sucking the darkness from and injecting light into the impure. The only help for those who wish to go home can be "offered" by mysterious people in black coats who seem to know quite a bit about this place.

WELCOME to the CITY of PAIXAO.

TAKEN CHARACTERS.
REQUESTED CHARACTERS.
CHARACTER RESERVATIONS.

Most fandoms are welcome!
All information you'll need, including a FAQ, is in the links above.
Any comments, questions, etc. may be emailed to paixaorpg@gmail.com.
We currently have a Jayne and a River but we could use the rest of the cast! Please check it out :D