It's THIS Friday, folks! And, yes, there are still a few tickets available! Go get 'em,
now!
NOW DR. HORRIBLE IS HERE TO MAKE YOU QUAKE WITH FEAR!!!

…BUT JUST FOR ONE NIGHT AND ONE NIGHT ONLY!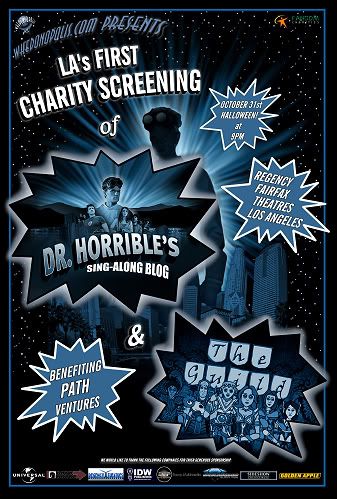 Yes, on Oct. 31st , All Hallows Eve,
Whedonopolis
will be bringing LA's very first charity screening of
Dr. Horrible's Sing-A-Long Blog
to the big screen, along with Felicia Day's web hit,
"The Guild"
. No waiting for buffering pauses or squinting at a monitor the size of a gum card! We've got a giant screen and our very own specially edited open captioned digital version to sing-a-long to!
The Details
Where:
Regency Fairfax Theatres
7907 Beverly Blvd.,
Los Angeles, CA, 90048
When:
October 31st, All Hallows Eve – 9PM
Price:
$15 per ticket (limit 10 per person)
The event will benefit
PATH Ventures
, a community development organization whose mission is to improve individual lives and communities by increasing quality affordable housing.
The doc had to get his bling by turning gold bricks into cumin-scented secret sauce, but for a mere $1 per ticket, you can enter our drawing to win cool and fabulous prizes! The more you enter, the better your chances to win, and all proceeds will go to
PATH Ventures
. Tickets for the drawing will only be sold at the theatre.
Tickets on sale
NOW
at
Whedonopolis.com
- And remember, it's Halloween! So feel free to slip on those gloves, snap on those goggles and come as your favorite villain, hero, sidekick, henchmen or hammer... or anything else that might make the Bad Horse gleeful.