Hey Browncoats!!

Here's a mix for all you out there that happen to be Simon/Kaylee shippers.

Oh, don't know what a fanmix is? It's like a soundtrack about a certain movie/tv show/character/pairing put together by a fan. Check it out, at the least you can download the songs, right?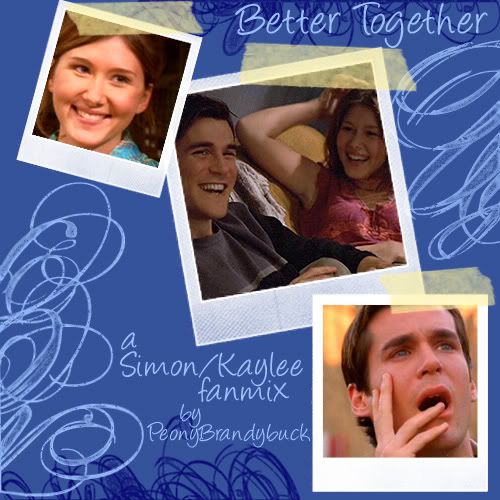 01. Damien Rice - Delicate

we might kiss when we are alone/...we might make out when nobody's there/it's not that we're scared/it's just that it's delicate

02. Annie Lennox - Waiting in Vain

from the very first time I rest my eyes on you, boy/my heart said follow through/..don't talk to me as if you think I'm dumb/I wanna know when you're gonna come

03. David Gray - Babylon
if you want it come and get it/for crying out loud/the love that I was giving you was never in doubt

04. Coldplay - God Put a Smile on Your Face

god gave you style and gave you grace/god put a smile upon your face

05. David Gray - Please Forgive Me
help me out here, all my words are falling short/and there's so much I want to say/want to tell you just how good it feels/when you look at me that way

06. Dashboard Confessional - Hey Girl

hey girl, you've got a fine laugh/and I think that I can get used to that/and you're already used to laughing at me

07. Eric Clapton - Wonderful Tonight

I feel wonderful because I see/the love light in your eyes/and the wonder of it all/is that you just don't realize how much I love you

08. The Cure - Just Like Heaven
I kissed her face and kissed her head/and dreamed of all the different ways I had/to make her glow

09. Maroon 5 - Sunday Morning
and that may be all I need/in darkness, she is all I see/come and rest your bones with me

10. Gavin DeGraw - Follow Through
and I, all I really want is you/you to stick around/I'll see you everyday/but you have to follow through

11. David Gray - Be Mine
that everytime I'm talking with you/it's always over too soon/that everyday feels so incomplete/till you walk into the room

12. Travis - Flowers in the Window
when I first held you I was cold/a melting snowman I was told/but there was no one there to hold before/...you are one in a million/and I love you so

13. Jason Mraz - You and I Both
cause you and I both loved/what you and I spoke of/and others just read of/others only read of the love, the love that I love

14. Jack Johnson - Better Together
love is the answer/at least for most of the questions in my heart/like why are we here? and where do we go?/and how come it's so hard?/it's not always easy and sometimes life can be deceiving/I'll tell you one thing its always better when we're togethe

BONUS: The Ballad of Serenity, the Firefly Theme Song

RAR file


Yousendit links, cover art, and RAR file with all the songs and cover art under the cut.