The PDX Browncoats need your help. Serenity Now/Equality Now is two weeks away and we need to get the word out in a big way this weekend. We need as many flyer distributers as we can get.

If you'd like to help out, either join our yahoo group, email me, or leave me a comment. Let me know when you're free to hand out flyers. You can also take a stack and put them in record stores, cafes, comic book stores, bookstores, grocery stores, or post them on college campus bulletin boards.

The plan is to distribute them this weekend, but we are also looking for new ideas to get the word out. If you have media contacts or know any local businesses that would be willing to sponser, WE NEED YOU NOW. Please join our group and offer to help out a good cause.

Remember, the key word is BENEFIT. This event will benefit Equality Now, and Serenity fans get the benefit of seeing their movie on the big screen again. Please help us make this event a success.



Read about Serenity Now/Equality Now in the Willamette Week.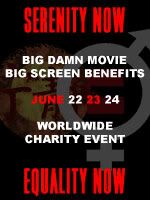 Crossposted to:

fireflyfans,
buffy_pacificnw,
serenity_pdx,
pdx_geek,
pdx_films,
damnportlanders,
fireflyseatac
firefly_for_fun