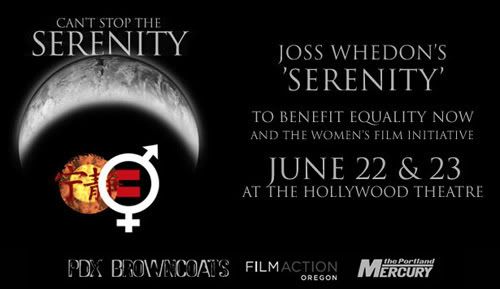 Only 3 days left to pre-order posters & t-shirts!
Tickets are $13 in advance, $18 on the day of show.
There's a $1 fee for purchasing online.



Raffle
Need some extra enticement to attend? We will be conducting raffles at both of our screenings. See below for a partial list of this year's raffle prizes.

• Voucher for Serenity special edition DVD
• Serenity: Those Left Behind trade paperback
• Serenity: Those Left Behind mini-poster
• Autographed copy of Finding Serenity
• Voucher for Serenity Found
• Buffy: Season 8 #1 with variant cover
• Alliance Currency Money Pack (fan club edition)
• Done the Impossible DVD
• And more!

In addition, we will have two authentic Serenity props, although it's not yet been determined whether these will go into the general raffle, a special raffle, or an auction.


Interested in sponsoring this event?
Visit our sponsorship opportunity page to learn how.